| | |
| --- | --- |
| Author | L&L Communication Team |
| Category | Product news |
| Read time: | min |
Quilatero is the new family of recessed fixtures with a built-in power supply intended for facade lighting in outdoor applications. The family features a square design and a wide range of optics, either fixed or tiltable.

Quilatero offers the choice of a trim in micro-blasted or cor-ten-painted stainless steel, and with or without visible screws: the latter version combines clean lines with easy installation, thanks to a simple system for fixing the device in the outer casing.

To meet the multiple needs of lighting professionals, the family offers a wide range of recessed optics: a very narrow 7° and 8° output, sharp optics for pin-sharp outlines, and elliptical and wall washer optics. The latter give the option of illuminating facades without contrasting shadows by directing the output at the vertical surface.
Quilatero sees the introduction of a special magnetic tilting system that allows the optics to be angled by up to 20° from the outside; a solution that leaves the fixture's IP66 and IP68 72h protection level unchanged.

The fixture is available with LEDs with a high colour rendering index (CRI >90) and with colour temperatures of 2700K, 3000K, 4000K and 2200K. The latter is the ideal choice for safeguarding fauna in natural environments. Anti-glare accessories complete the offer: a honeycomb louvre or a screen that is half transparent and half serigraphed black.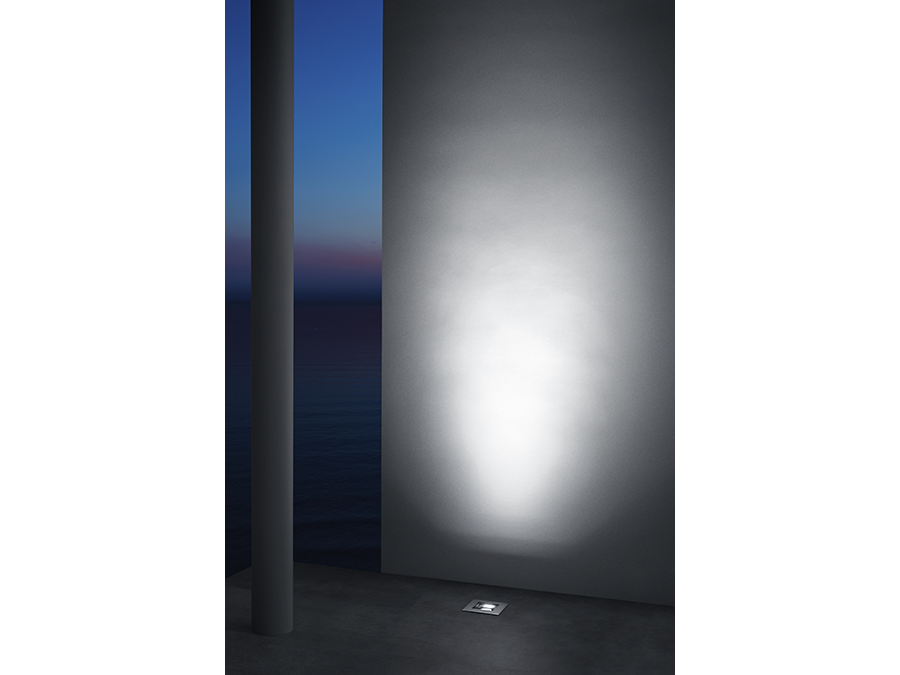 Unique selling points
Wall washer optics
In the versions with fixed optics, Quilatero is available with wall washer optics to illuminate walls and facades with its light output directed at the vertical surface, avoiding contrasting shadows and reducing light spill.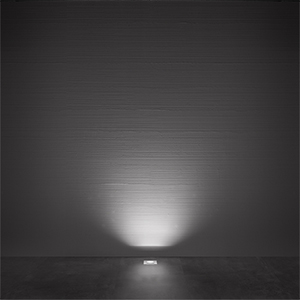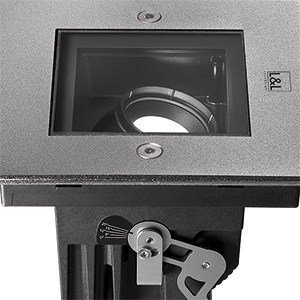 Magnetic tilting system
Allows the optics to be tilted by up to 20° from the outside, leaving the fixture's IP66 and IP68 72h protection level unchanged. The graduations on the body of the device enable precise positioning of the light emission.
Minimalist design and quick installation
In the versions with a trim with no visible screws, the cover's clean lines combine with quick and easy installation: the device is fixed into the outer casing using mounting clips built into the lighting fixture. 

Excellent resistance to corrosion
The trim in AISI 316L stainless steel and the heat-dissipating body in carbon-fibre-reinforced, thermally conductive semicrystalline technopolymer guarantee excellent resistance to corrosion, even in saline environments such as maritime settings.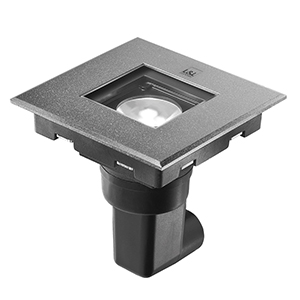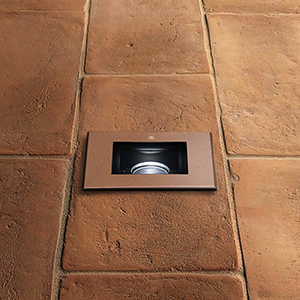 Cor-ten finish
The trim in AISI 316L stainless steel can be painted with a cor-ten finish or in a RAL colour on request
Technical data
Power consumption
Quilatero 1.0 / 1.1: 3,5W
Quilatero 2.0 / 2.1: 8W, 6W (wall washer optics)
Quilatero 2.4 / 2.5: 8W
Power supply
110-230Vac
LED colour
Quilatero 1.0 / 1.1: 2200K, 2700K, 3000K, 4000K
Quilatero 2.0 / 2.1 / 2.4 / 2.5: 2700K, 3000K, 4000K
Optics
Quilatero 1.0 / 1.1: 7°, 10°, 14°, 32°, 42°, 35° sharp, 12°x45°, wall washer, diffuse
Quilatero 2.0 / 2.1: 8°, 12°, 18°, 34°, 47°, 63° sharp, 20°x47°, wall washer, diffuse
Quilatero 2.4 / 2.5: tiltable +20°: 8°, 12°, 18°, 34°, 47°, 63° sharp, 20°x47°
Ingress protection
IP66 / IP68 72h / IP69K
Impact resistance
IK08 (Quilatero 1) / IK10(Quilatero 2)