| | |
| --- | --- |
| Author | L&L Communication Team |
| Category | Product news |
| Read time: | min |
The Intono C range of ceiling-mounted fixtures has been extended: outdoor versions are now available.

Intono C OUT is ideal for lighting outdoor areas in private homes and in the hospitality sector, installed in a porch or under a terrace. Furthermore, its IP65 impact resistance means it can be installed in wine cellars and museum areas where there is high humidity, such as archaeological sites.
Unique selling points
•  With the version covered in a neutral, bonding primer, the surface can be painted with the same wall paint as the ceiling.

•  Intono C OUT communicates with smart speakers such as Google Home or Amazon Echo over Wi-Fi using the ZigBee protocol, with quick voice commands. Like its indoor counterpart, Intono C OUT can also house a speaker that will play your Spotify or Amazon Music playlists.

•  Asymmetrical optics are available, developed to produce a wall-washer effect on walls and similar.

•  The entire range uses recessed optics for greater visual comfort and LED sources with CRI 80 or CRI >90.

•  Thanks to its 4-point magnetic fastener, Intono C OUT can be installed on ceilings quickly and easily.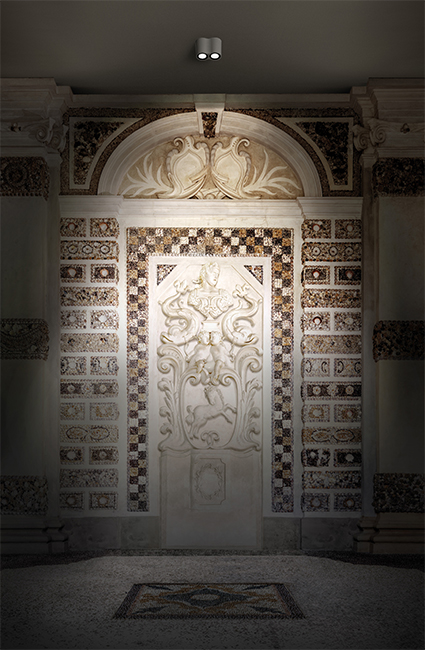 Technical data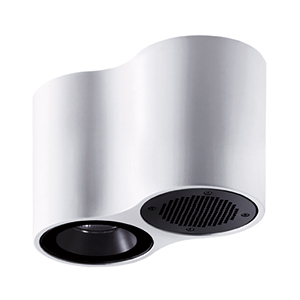 Power
Intono C OUT 2.4: 12W
Intono C OUT 3.4: 20W
Intono C OUT 3.9: 9W
Power supply
Intono C OUT 2.4: 230Vac
Intono C OUT 3.4: 230Vac
Intono C OUT 3.9: 24Vdc
LED colour
2700K, 3000K, 4000K
Optics
Intono C OUT 2.4: 11°, 34°, 68°, diffuse
Intono C OUT 3.4: 15°, 20°, 43°, asymmetrical
Intono C OUT 3.9: 20°
Lumen output at source:
Intono C OUT 2.4:
  976 lm (3000K, CRI 80)
Intono C OUT 3.4: 
  1976 lm (3000K, CRI 80)
Intono C OUT 3.9: 
  988 lm (3000K, CRI 80)
Delivered lumen output:
Intono C OUT 2.4:
  704 lm (3000K, 34°, CRI 80)
Intono C OUT 3.4: 
  1674 lm (3000K, 15°, CRI 80)
Intono C OUT 3.9: 
  783 lm (3000K, 20°, CRI 80)