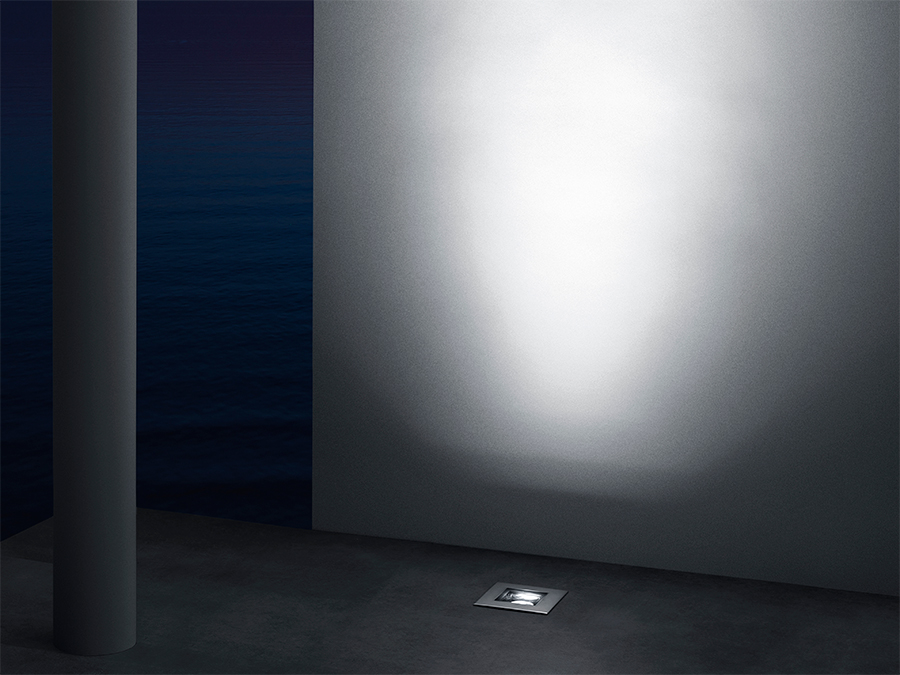 Quilatero
A square fixture with all-round potential
Family of drive-over recessed fixtures, with built-in 230Vac power supply, for architectural facade lighting. They have a distinctive square design and are available in two sizes and power ranges (3.5W and 8W). The more powerful version, Quilatero 2, is available with both fixed (Quilatero 2.0 / 2.1) and tiltable optics (Quilatero 2.4 / 2.5).
Quilatero's wide range of optics is designed to meet the multiple needs of lighting professionals and includes outputs that are very narrow (7° and 8°), elliptical, sharp-edged (sharp optics) or wide and soft (diffuse optics). In addition, the wall washer optics, directed at the vertical surface, illuminate facades without contrasting shadows; this also reduces light spill.
In the versions with optics tiltable by up to 20° (Quilatero 2.4 / 2.5), the magnetic system enables the optical unit to be angled from the outside, guaranteeing the fixture's watertightness and IP66 / IP68 72h protection level; meanwhile, graduations and a locking screw ensure extreme precision and maintenance of the chosen angle of tilt.
Quilatero uses power LEDs and, in the more powerful versions, high-intensity power LEDs. It is also available with a high colour rendering index of CRI>90, in colour temperatures 2700K, 3000K, 4000K, and in the warm 2200K (Quilatero 1) to better respect the circadian cycles of people and animals in urban, green and public spaces. The optical accessories, a honeycomb louvre and an anti-glare screen, can be built into the fixture.
The heat-dissipating body, made of thermally conductive technopolymer, combines a thermal conductivity equal to that of stainless steel with excellent resistance to corrosion even in harsh environments, meaning Quilatero can be used in saline conditions such as maritime settings. The screen in transparent, extra-clear glass is tempered for excellent impact and scratch resistance (IK08 and IK10).
The trim in AISI 316L stainless steel is available with or without visible screws – the latter version combines minimalist aesthetics with easy installation: the lighting fixture is simply pressed into place in its outer casing. The trim can be painted with a cor-ten finish or in a RAL colour on request: this versatility means the Quilatero adapts easily to architecture of very different styles and intended uses.