Since June, all the energy we need to run our headquarters containing our offices and production departments has been supplied by our new photovoltaic system. 
And that's not all: we even have energy to spare 🙂.
The balance sheet is positive because the extra energy we produced was sold to the national grid.
Here are the figures from the first five months of operation of the new 210-kWp photovoltaic system:
☀️ Energy produced: 130 MWh
☀️ Energy consumed: 70 MWh
☀️ Energy exported to the grid: 60 MWh
The use of solar energy avoided the emission of 62.17 tonnes of CO2 into the atmosphere, equivalent to planting 85 trees and saving 52.35 tonnes of coal.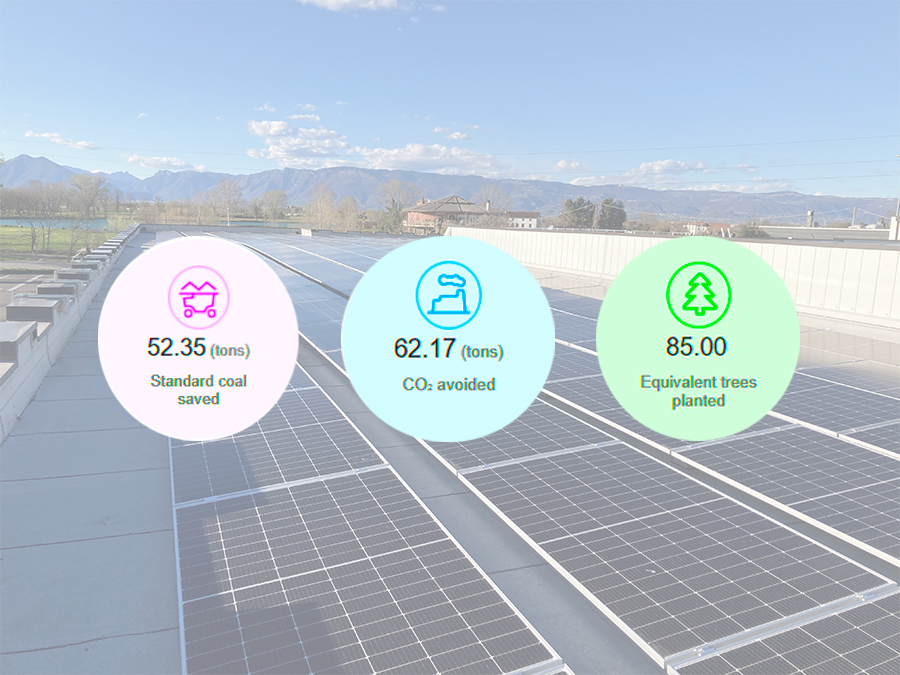 The installation of our new photovoltaic system is one more piece in a bigger picture: a programme to reduce our ecological footprint at every stage of our products' life. 
Let's go back a bit and look at where our efforts have been focused so far.
From the very start, we paid a lot of attention to the early stages of the product life cycle with a single goal in mind: to produce high quality products that last.
A lighting fixture that remains reliable over the long term optimizes the use of all the resources required for its production.
Consequently, we worked on:
the choice of materials and selection of LEDs
testing the fixtures during the development phase
the local supply chain
the key steps in the production phase
The choice of materials and selection of LEDs
When choosing the materials we use to make our lighting fixtures, our main focus is on resistance to corrosion, impact and sub-zero temperatures, and the LEDs' ability to dissipate heat.
We devote the same attention to selecting the LEDs, which is key to ensuring their durability. That is why we use LED sources that guarantee 60000 h L90 B10, i.e. after 60,000 hours of operation at least 90% of the initial flux is guaranteed on 90% of the fixtures. 
Testing the fixtures during the development phase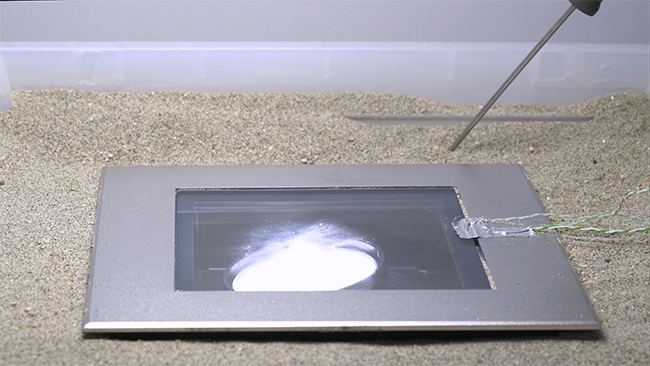 The local supply chain
From the outset, wherever possible, we have chosen local Veneto and Italian suppliers: this allows us to have greater control over product quality and to reduce the emissions generated by transport to and from our premises.
The key steps in the production phase
In addition to receiving semi-finished products from our suppliers, we also have an in-house machine shop that machines steel and aluminium. Most of our aluminium and almost all our steel fixtures are manufactured in a completely in-house production process.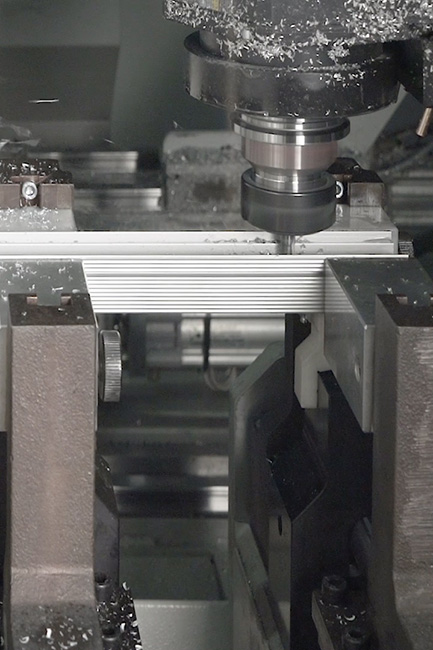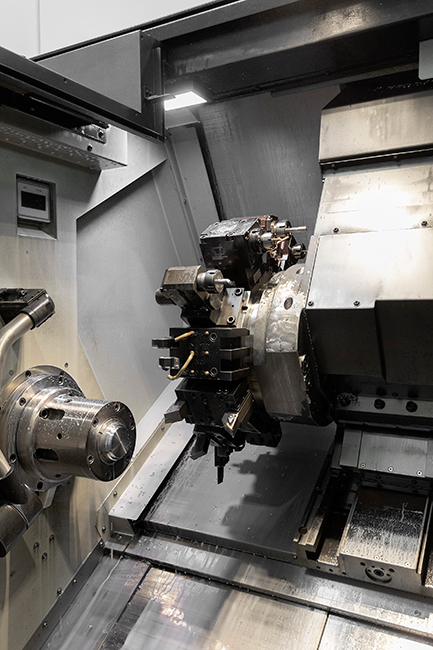 This means they go directly from our machine shop to the final assembly line.
As a result, we
avoid intermediate transportation
guarantee the quality of the raw materials
keep our know-how in-house to ensure the high quality of our fixtures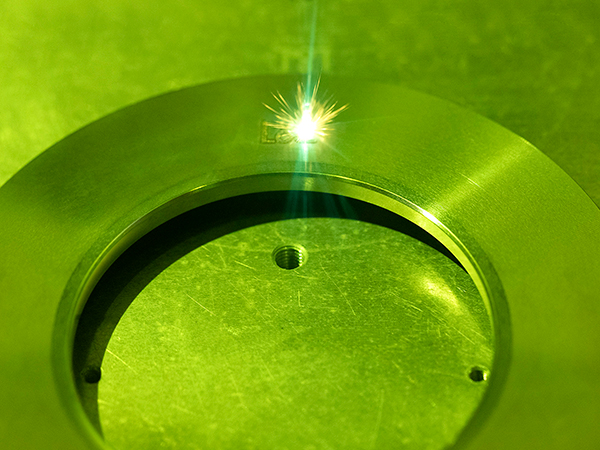 When assembling our fixtures, two steps have proved to be key in guaranteeing their reliability and resistance, and therefore their durability: painting, and sealing with silicone.
🖌️ Our outdoor lighting fixtures receive three coats of paint, and the paints used are compliant with the Qualicoat standard used in the automotive sector.
🖌️ Silicone-sealing the screens on our lighting fixtures is another step that is fundamental to product durability, as it ensures the glass is watertight.
At our headquarters, a humidity- and temperature-controlled laboratory is entirely dedicated to this step. Here, collaborative robots enable us to apply a perfectly homogeneous silicone bead, while precise dosing reduces product waste to a minimum. The silicone we use is also used in the automotive sector: it is UV-resistant, prevents mould growth and maintains a perfect seal.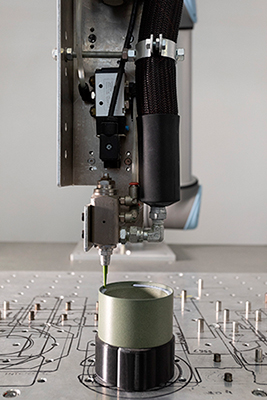 At the end of this look at the technical side of things, there can be no doubt that our fixtures are reliable and durable.
But how are they used?
As manufacturers, we asked ourselves what our role is in reducing light pollution, and we established that it lies in the design stage of our lighting fixtures. That is why we offer a series of technical solutions that enable a responsible use of our devices, such as: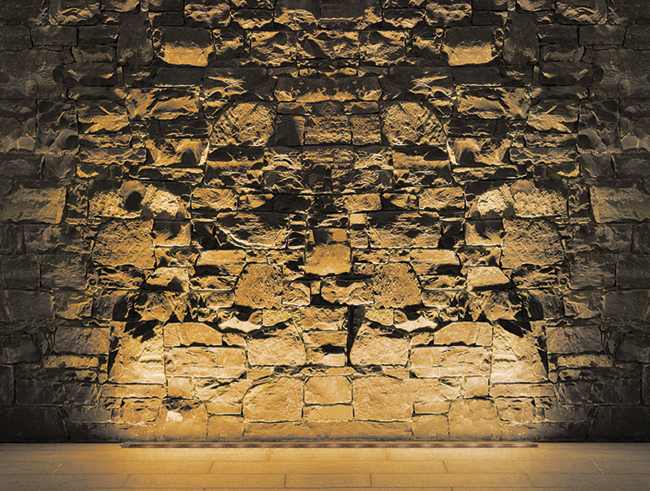 A warm, 2200K LED colour temperature, to better respect the circadian cycles of people and animals in urban, green and public spaces.
Ability to control the light intensity and program on/off lighting scenes (for instance, by using the Casambi app) to reduce the amount of light emitted into the atmosphere and thus reduce sky glow.
Fixed asymmetrical and wall washer optics or adjustable optics, making it possible to direct and concentrate light on the vertical surface avoiding light spilling unnecessarily either to the side or upwards.
Anti-glare accessories, in particular snoots and anti-glare shields, which direct the light beam towards the area or element to be lit.
💡 💡 💡
For more on light pollution, you can read our article here
And now, on top of our focus on our products' durability and responsible lighting, we can now add a production process that is more sustainable because it is based on solar energy.
However, we know it doesn't end here.
Each stage of our products' life cycle needs to be analysed further to understand where waste and pollution are created, so that we can take action to reduce our ecological impact. We have a long journey ahead of us still, which is why it is important for us to celebrate every step as a victory, to help us to stay the course and continue with ever greater confidence towards the goal of environmental sustainability.

To our next victory! 😊