darc night returns, the product of a partnership between arc and darc magazines, and the creative consultants with Light Collective. This year marks its fourth edition. 
As in previous years, darc night will host a series of temporary lighting installations that are the fruit of collaborations between the partner manufacturers and some of the major lighting design studios.
This year, the theme for the artistic installations is "Christmas Tree". L&L will be the technical partner of the international architecture, engineering and design firm BDP and will supply them with the lighting fixtures for their contribution. The installation will be called "Ouuuuuu".
The event, which will be held on 6 December, in the industrial setting of MC Motors, in London, will also see the presentation of the darc awards, the Oscars of the lighting world.
As in previous editions, L&L is a sponsor of the initiative, which maintains its original peer-to-peer voting format unchanged and directly involves over 1400 lighting design studios in the process of assigning awards to the best architectural and decorative lighting projects and the best lighting fixtures.
L&L is competing in the product category Best Architectural Lighting Products – Exterior Luminaires with Palladiano and Ginko.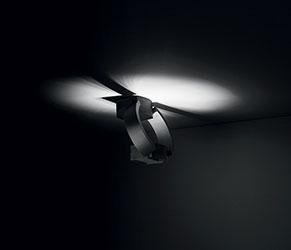 Palladiano (design by Francesco Iannone) is a family of fixtures whose distinctive design means it can offer multiple lighting possibilities. Its shape is characterised by semi-circular arms that can be adjusted in 30° steps and support optics that are adjustable through 336°. Using accessories, Palladiano can be installed in urban settings on a pole or bollard, or mounted on an external wall or ceiling, or as a projector. Available optics are 15°, 24°, 38°, 54°, 14°x56°, 15 street optics, and colour and shadow-effect filters (forest, rain, water, leaves, path and blurred).
Ginko is an outdoor projector with two wattages and a wide range of optics, including: one with sharp optics and 2 with elliptical optics adjustable through 360° using a magnet, and a shadow-effect filter that recreates the natural dappled effect of light shining through foliage. Ginko is available in jasper green, a special finish developed for use in landscape design, in addition to standard finishes, different light colour temperatures and a choice between CRI 80 and 90 for improved colour rendering.