Line of recessed downlights intended for plasterboard false ceilings or niches in residential contexts. They are available with fixed optics, optics tiltable ±20° or with optics tiltable ±20° plus manual zoom lens.

The adjustable versions have an optical unit that can be rotated by up to 360° for precise pointing. The entire Cameo range uses Power LED or Power LED High Intensity depending on the model; all the light sources have a high colour rendering index of CRI >90. The Cameo range is available with a white or black finish, or an RAL finish on request.
Unique Selling Points
Wide product range
The Cameo family is made up of three wattages and three sizes: 1.5W/2.5W, with a diameter of 39 mm or 58 mm, or in a 5W version.

Rotatable optical unit
On the Cameo versions with tiltable optics, the optical unit can be rotated by up to 360° along the vertical axis, allowing the light beam to be directed very precisely.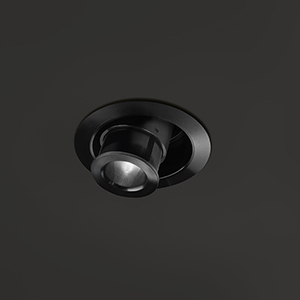 Discover the entire family