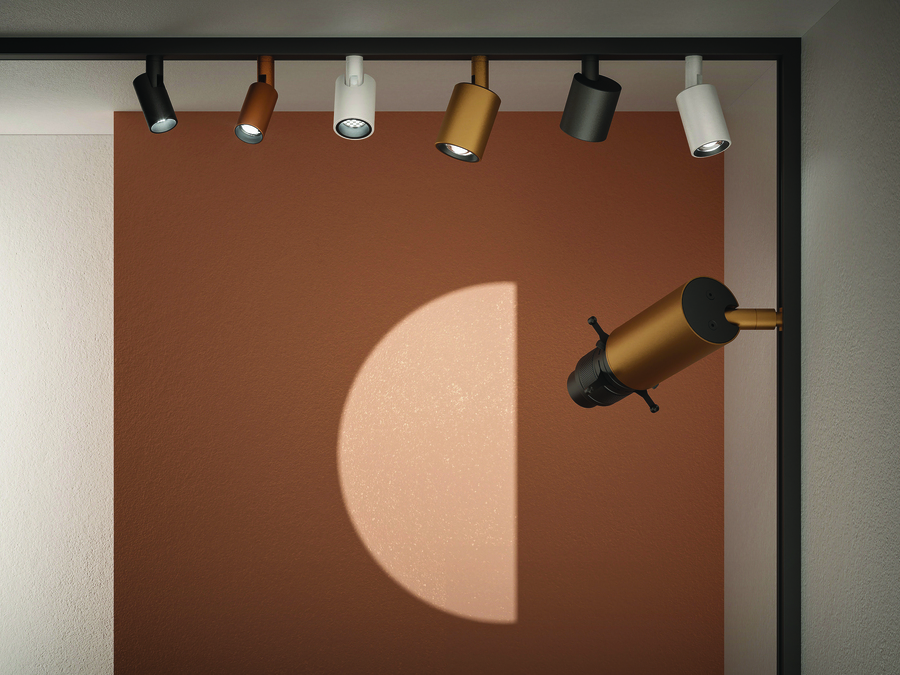 Krill Track
Track lighting for display cases and alcoves in museums and retail contexts
A family of track projectors with clean lines and compact dimensions for lighting in display cases and alcoves in the retail and museum sectors.
Krill Track's versatility allows it to meet the different requirements of museum and retail spaces: the low voltage (24Vdc and 48Vdc) track in a black finish is available for surface mounting, or recessed installation flush with the wall or ceiling. And the connection accessories enable continuous ceiling-to-wall and wall-to-wall installation, as well as in straight or right-angled lines. The track's narrow width – just 19 mm – combined with the compact design of Krill Track projectors, ensures a minimalist look with the least possible visual distraction.
The projector comes with a fixed focus, available with six optics, including two elliptical optics, or a zoom lens, which allows the angle of the light beam to be adjusted and adapted to changes in the objects on display. For Krill Track 2.0 and 3.0, honeycomb louvre and snoot anti-glare accessories are available.
The entire Krill Track range uses LED sources with a high colour rendering index – CRI>90 – guaranteeing maximum colour rendition, or fidelity, for the objects being lit. All the projectors are dimmable using the DALI-2 protocol.
Krill Track extends the installation versatility of the award-winning Krill projectors. The availability of the same finishes, including antique bronze and rose gold, or a RAL finish on request, means they can be coordinated across the same space.