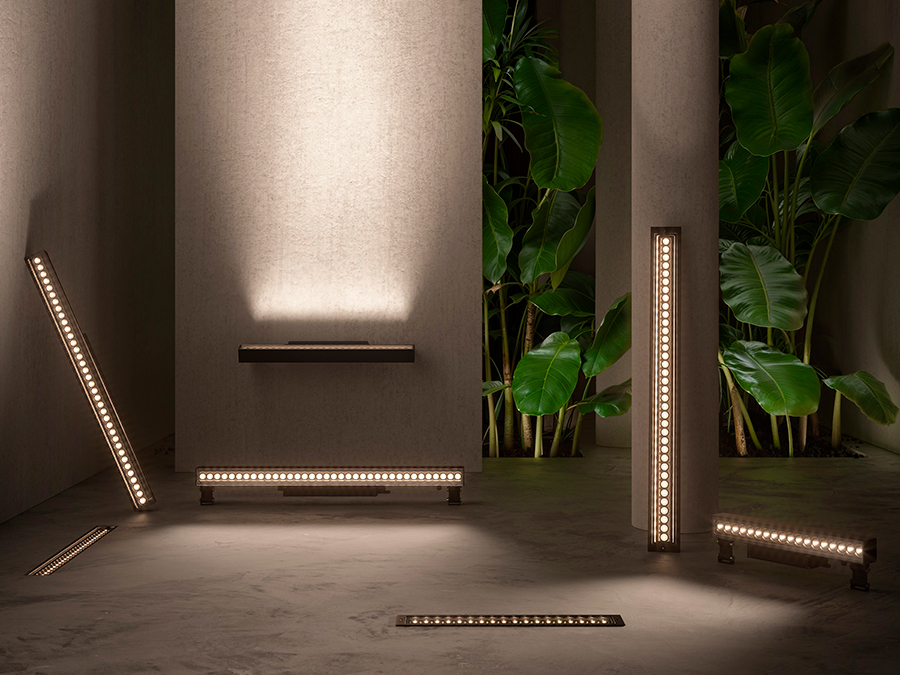 Colorado
Taking light to new heights
Drive-over linear profiles with built-in power supply and powerful lighting performance – more than 5700 lm per square metre – developed as architectural lighting for facades on urban buildings such as historic and public buildings, and hotels.
Colorado is available in three lengths (60 / 100 / 120 cm) for three configurations: recessed flush for a minimalist look, recessed with rebated frame, or surface mounted using brackets with two pivot points. A pair of adjustable brackets is available to give greater flexibility in positioning the light output.
In terms of lighting technology, the optics are recessed for greater visual comfort and tiltable by ±20° for precise positioning, and guarantee the light's uniformity on the illuminated surface. The entire range of optics, from rotationally symmetrical, to diffuse and elliptical optics, can be angled externally without compromising the fixture's IP65 and IP67 protection level. Colorado can be fitted with the anti-glare accessories honeycomb louvre and anti-glare shield, mounted directly on the optical unit and adjustable together with the optics.
Colorado 1, 2 and 3 contain high-power LEDs with colour temperatures of 2700K, 3000K, 4000K, and 2200K warm white. The latter is a solution for urban, green and public spaces that protects the circadian cycles of both people and animals. The RGBW versions of Colorado (4, 5 and 6) contain multicolour high-intensity power LEDs to ensure good colour mixing and excellent lighting performance. Colorado's tunable white versions (7, 8 and 9) complete the range of available light colours. They enable a transition from warm 2200K to cool 5000K through countless intermediate nuances.
The white light can be controlled using DALI or 0/1–10V dimming, while the lighting scenes using RGBW and tunable white can be controlled using the DMX+RDM protocol.
Colorado is suitable for installation in harsh environments such as the saline conditions found in maritime areas. The combination of a body in Anticorodal® low-copper-content aluminium and end caps in technopolymer ensures excellent heat dissipation and outstanding corrosion resistance. The screen in transparent, tempered extra-clear glass guarantees impact and scratch resistance (IK09 and IK10).