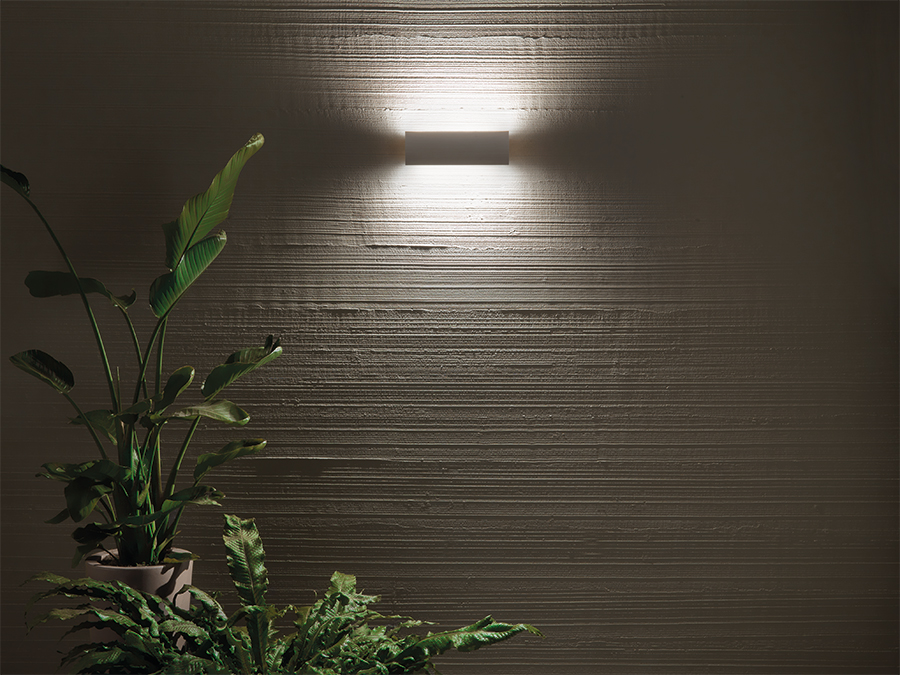 Berica OUT
Double-beam lighting in private homes and hospitality
Berica OUT is a double-beam, wall-mounted outdoor fixture with a minimalist design, suitable for private homes and the hospitality sector, not least because of the practical functionality of its built-in power supply unit.
Berica OUT is available in three sizes, three different types of cover – convex, concave and flat – and the finishes white, anthracite, cor-ten or, on request, the RAL finish of your choice. A version with a primer coating is also available – this enables the device to be finished in the same paint as the wall it's mounted on: an excellent way to integrate the lighting fixture into its surroundings. The fixture's chromatic homogeneity with its setting is completed by its end caps being painted in the same finish as the cover.
The standard light colour temperatures of 4000K, 3000K, 2700K are joined by a 2200K warm white light, designed to create a serene, welcoming atmosphere in farmhouse and cottage porches. There are four different optics available, including asymmetrical optics, which allow the light output to reach the ground on walkways and in transit areas. Berica OUT uses LED light sources with CRI 80, or with a high colour rendering index of CRI >90; light control via the DALI protocol is available for the 360-mm and 640-mm-long versions. A single-beam version of Berica OUT is available on request.
Berica OUT can be coordinated in indoor spaces with the Berica IN range of wall-mounted fixtures and Berica S suspended fixtures.