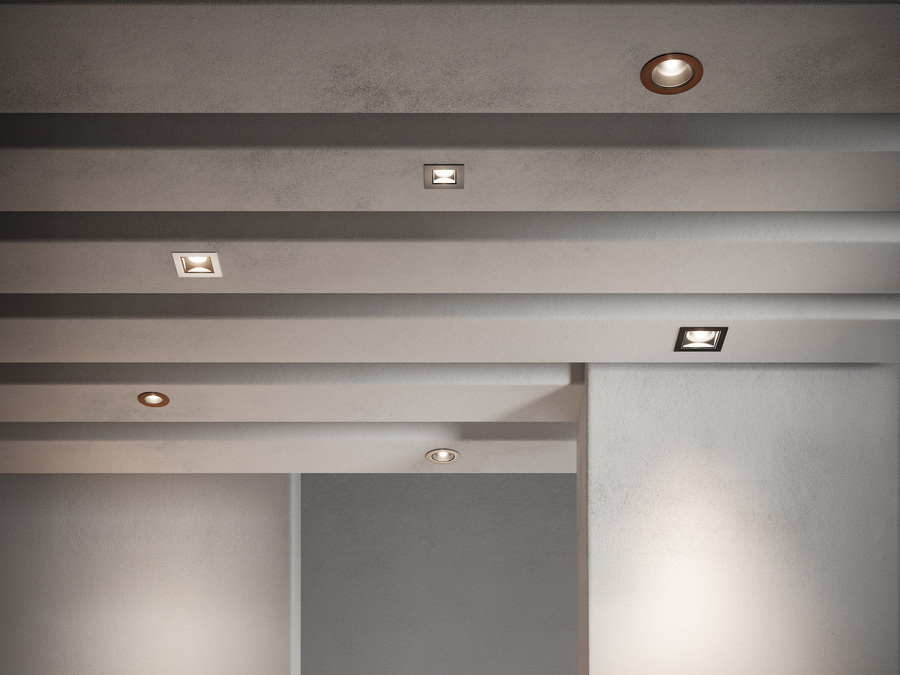 Recessed for outdoor applications
Altopiano
Create the colour, create the mood
The Altopiano line of outdoor downlights expands the possibilities of ambient lighting in the hospitality and residential sectors: it combines a versatility of size and shape (round or square shapes in three sizes) with a multiplicity of atmospheric light colours. In addition to the range of white tones, from a warm 2200K to the more traditional 2700K, 3000K and 4000K (with on/off or DALI-2 control), Altopiano offers RGBW mixing and Dim to Warm intensity/colour adjustment (the latter with DALI-2 control).

Dim to Warm technology changes the LED colour temperature as the fixture's luminous flux is dimmed. The light is adjustable over a range from 3000K white, at maximum brightness, to 1800K warm, at minimum brightness. Dim to Warm means you can adapt the light to suit the atmosphere you want to create. You can make living spaces more welcoming and relaxing by gradually reducing the luminous flux and obtaining an increasingly warm light.

Altopiano downlights offer great visual comfort, with their recessed optics and possibility of building in a honeycomb louvre and anti-glare shield with concentric rings, as well as a UGR of less than 19 with the narrow, medium and wide optics.

These extremely compact recessed fixtures (only 90 mm high) can be easily installed even when space is at a premium. The special design of the screw fastening system leaves skimmed plasterboard intact. With the outer casing, installation in brickwork is also possible, while purpose-designed fixing springs are available for panels in non-standard thicknesses. The magnetic properties of the stainless steel trim mean Altopiano has a minimalist look, with no visible screws. The primer version and the availability of RAL finishes on request expand the traditional outdoor finishes to an infinite number of possible stylistic variations.

The body is made of thermally conductive technopolymer (with a thermal conductivity equal to that of stainless steel), giving it outstanding corrosion resistance. With a rating of IP66, Altopiano is therefore ideally suited for use in outdoor areas such as porches, as well as in environments with high humidity, such as cellars and wellness centres.